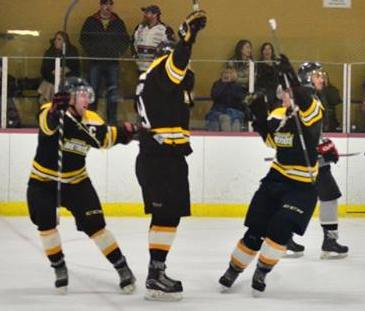 Samedi 7 Avril 2018
Riley Payne scored early in overtime as the host South Side MacDonald's Excavation / EF MacPhee Lynx came from behind twice to down the Tri-County Rivercats 4-3 and advance to the Championship game on Sunday.
Tyson Beckingham (1-1), Brady Vandervelden, and Kyle MacGuigan also scored for South Side who erased deficits of 2-0 and 3-2. Payne, Ryan Beckingham (2), David Sato, Drew Grady, Nick Vandervelden, and Sean MacPhee had assists.
Ben Corey (1-1), Hunter Atwin, and Paddy Thompson scored for Tri-County. Creighton Sanipass (2), Justin Dunphy, Alex Vanderlaan, and MacKenzie Clark has helpers.
Sean MacPhee stopped 36 of 39 shots for the win, while Josh Simpson stopped 30 of 33 in the loss for Tri-County.
--------------------------------
In the earlier game, Owen Arsenault scored the winning goal with just 18 seconds left in regulation to give the Sherwood Metros (PE) a 4-3 win in their semi-final against Spryfield (NS).
Logan Toole (1-3), Jake Arsenault (1-2), and Shawn Corney also scored for Sherwood with Owen Arsenault also picking up an assist.
Spryfield had goals from Francois Poirier (1-1), Ryan MacGregor, and Connor LeBlanc. Assists came from Tyler Bezanson (2), and Benjamin Sullivan.
James Duffy stopped 27 of 30 shots for the win, while Sam Kamermans turned aside 19 of 23 shots for the loss.
Spryfield lead 1-0 after the first and the game was tied at 2 after the second.
Cet article vous a plu ? Partagez le!
x
Terme d'utilisation Shark Média & Sport
L'ensemble du contenu de ce site est privé et purement informatif. Les droits du visiteur de ce site ne peuvent par conséquent pas provenir du contenu de ce même site. Ce site est exploité par et a été créé par SHARK MÉDIA & SPORT. Les données contenues dans ce site Internet sont la propriété intellectuelle de et sont protégées par des droits d'auteur. Ces données ne peuvent être copiées ni reproduites sans l'accord préalable de ou SHARK MÉDIA & SPORT sauf dans le cadre nécessaire à la consultation en ligne. Vous pouvez toutefois imprimer des pages entières du site pour des usages personnels. Pour en savoir plus sur l'utilisation de ce site veuillez communiquer avec SHARK MÉDIA & SPORT.