Sherwood Wins First PEI Championship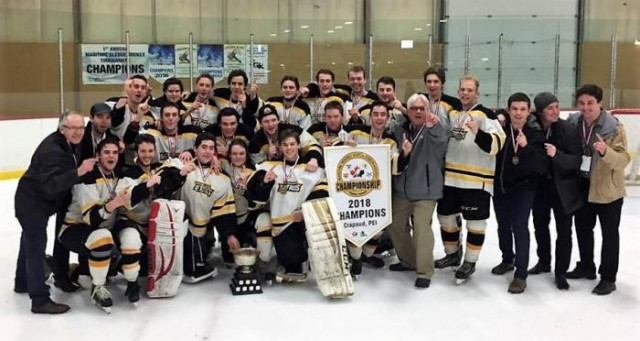 Sunday April 8, 2018
Tanner Power scored early in the second period which held up to be the winner as the Sherwood Metros downed the host South Side MacDonald's Excavation / EF MacPhee Lynx 4-1 on Sunday afternoon in front of a huge crowd to capture the 2018 Maritime - Hockey North Junior C Championship.
The win was the first for a PEI team in the 16-year history of the tournament. In fact, there was only one other year (2015) when a PEI team qualified for the championship game.
The Metros were 5-0 against the Lynx in the regular season of the PEI league, but with the hosts making a strong effort to get to the finals, Sherwood could not take them lightly. In fact, Tyson Beckingham put the Lynx up early in the game with a goal from Ryan Beckingham and Cameron Nelson before Logan Toole tied the game later in the period.
Power's goal put the Metros ahead 2-1 entering the third period and goals from Shawn Corney and Marc Cummiskey would be the insurance they needed to secure the title.
William Levasseur, Brad Jenkins, Patrick Kenny, Owen Arsenault, Jake Arsenault, and Brandon Sullivan had assists for the Metros.
Blake Arsenault stopped 28 of 29 shots for the win, while Sean MacPhee stopped 34 of 38 shots. The game was the last junior game of the careers of both goaltenders as this was their overage year.
Did you like this article? Share it!
x
Term of use Shark Media & Sport
The content of this site is private and purely informative. The rights of a visitor to this site cannot, therefore, be derived from the content of this website. This website is operated by and was created by SHARK MEDIA & SPORT. The data contained within this website are the intellectual property of and are copyright-protected. The data herein cannot be copied or reproduced without the prior consent of or SHARK MEDIA & SPORT, other than in contexts requiring on-line searches. However, you may print out entire pages of this site for personal use. For further information about the use of this site, please communicate with SHARK MEDIA & SPORT.