South Side; Sherwood advance to Championship Game with Exciting Finishes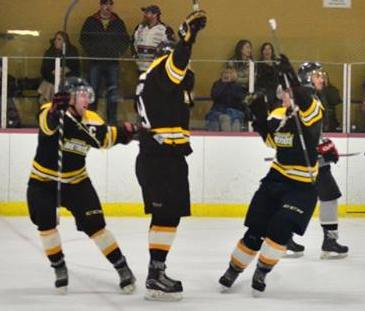 Saturday April 7, 2018
Riley Payne scored early in overtime as the host South Side MacDonald's Excavation / EF MacPhee Lynx came from behind twice to down the Tri-County Rivercats 4-3 and advance to the Championship game on Sunday.
Tyson Beckingham (1-1), Brady Vandervelden, and Kyle MacGuigan also scored for South Side who erased deficits of 2-0 and 3-2. Payne, Ryan Beckingham (2), David Sato, Drew Grady, Nick Vandervelden, and Sean MacPhee had assists.
Ben Corey (1-1), Hunter Atwin, and Paddy Thompson scored for Tri-County. Creighton Sanipass (2), Justin Dunphy, Alex Vanderlaan, and MacKenzie Clark has helpers.
Sean MacPhee stopped 36 of 39 shots for the win, while Josh Simpson stopped 30 of 33 in the loss for Tri-County.
--------------------------------
In the earlier game, Owen Arsenault scored the winning goal with just 18 seconds left in regulation to give the Sherwood Metros (PE) a 4-3 win in their semi-final against Spryfield (NS).
Logan Toole (1-3), Jake Arsenault (1-2), and Shawn Corney also scored for Sherwood with Owen Arsenault also picking up an assist.
Spryfield had goals from Francois Poirier (1-1), Ryan MacGregor, and Connor LeBlanc. Assists came from Tyler Bezanson (2), and Benjamin Sullivan.
James Duffy stopped 27 of 30 shots for the win, while Sam Kamermans turned aside 19 of 23 shots for the loss.
Spryfield lead 1-0 after the first and the game was tied at 2 after the second.
Did you like this article? Share it!
x
Term of use Shark Media & Sport
The content of this site is private and purely informative. The rights of a visitor to this site cannot, therefore, be derived from the content of this website. This website is operated by and was created by SHARK MEDIA & SPORT. The data contained within this website are the intellectual property of and are copyright-protected. The data herein cannot be copied or reproduced without the prior consent of or SHARK MEDIA & SPORT, other than in contexts requiring on-line searches. However, you may print out entire pages of this site for personal use. For further information about the use of this site, please communicate with SHARK MEDIA & SPORT.